. . . sign-up for a three-week stone-carving class with Don Dougan . . .

This image was used to encourage students to sign-up for my stonecarving class in Imatra, Finland in the Spring of 2005.

If I knew who the photographer was I would credit him/her for a great attention-grabbing photograph, although my ambitions have always been much more modest!

Thank You, Bill, and to the Unknown Photographer -

from a carver whose appetite is  always larger than his belly . . . 

and who enjoys a good laugh. 

Unfortunately, most of the works by the new stone-sculptors-to-be were still in-progress when I left the cool mid-summer of eastern Finland and returned to the stifling humidity and heat of Atlanta, Georgia . . .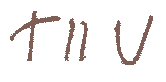 . . . as Tiiu was still carving details in her representation of a mythic 'Cat-Goddess',


and Leila further explored the concept of her 'Narcissus Cup' . . .


Teija was still refining the shape of her 'wrecked boat',


            and Teemu

continued to painstakingly fit the marble element on the reverse of his 'Sun-Swallowing Snake',


Taina put the finishing touches on her earthy  'Chicken Venus' . . .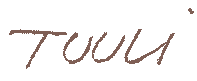 Tuuli (at back) had finished two pieces -

her 'Little Bird' and

a multi-element work called the 'Maid of Imatra'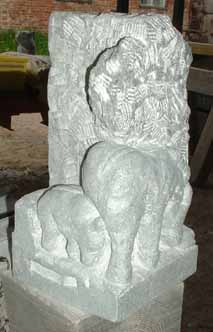 while Joanna hadn't quite finished the details in her story-column.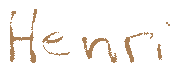 Henri was still working on his two pieces, 'Moon Pool' (above) and the larger but as-yet untitled work (at right). 

Both of these tabletop meditation pieces are to be filled with water up to the level of the top surface when finished.

During the brief three-week class, I did several small pieces for demonstration purposes:

a small handheld or tabletop piece (a rabbit in Finnish soapstone),

       and three small wall pieces

          (in Finnish soapstone,

               Finnish granite, and

                       Italian marble).

Two views of the rabbit demo done in soapstone, sitting on Finnish granite

IN A FINN'S GARDEN

soapstone, white marble, black granite

22cm x 33cm x 6cm

DARK LITTLE SCAPE

soapstone, black granite, red marble

30.5cm x 19cm x 4cm

TALL LANDSCAPE (FOR BILL)

white marble, soapstone, black marble

53cm x 11cm x 4.5cm