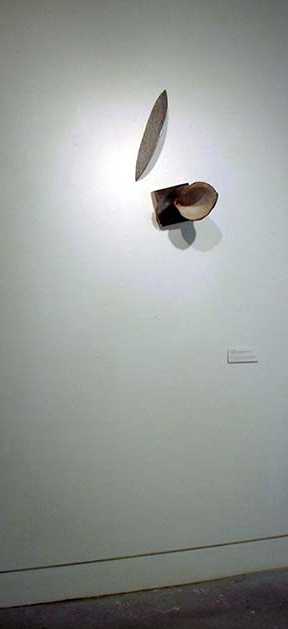 Hathor (all-mother in Egyptian mythology) is the goddess of the sky and queen of heaven, the goddess of love, of gaiety and of the dance, and she is also known as the 'Mistress of Merriment.' 

The goddess associated with the moon, Hathor is the daughter of the sun god Ra and wife of the sky god Horus.  She is also the goddess of fertility and patron of women and marriage.

She was said to be the only person who could make her stern-countenanced  father Ra laugh, and one story of how she did so was by impulsively lifting her dress for him to see.

Hathor is often portrayed as woman with the head of a cow, or as a woman with the horns and ears of a cow.  Surmounting her head is the disk of the moon set between her horns.

HATHOR'S EAR: WHISPERS TO THE MOON

view at left 

The work installed on wall in Sight Bytes exhibit June 2002, with the lower element  mounted 72" from the floor - the top of the truncated disc is 25" above bottom of ear.

detail view below          

ATHYR - a spelling variation of Hathor - was the title of the first  version (shown at right) was done in 1982. The piece was carved  from Georgia Etowah pink marble and mounted on a cast black  cement base.

Although it was exhibited several times in the next two years, Don      was not completely satisfied with it, so the piece gathered dust in a   warehouse for over ten years.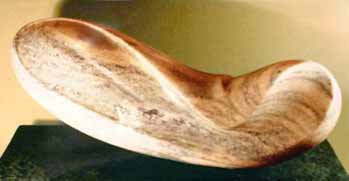 In 1994-95 he re-worked the piece for an exhibit he was preparing based on mythological themes.  The exhibit was titled Mythological Sediments and it brought together a number of new and several reworked pieces within the theme. 

The reworked version (shown at left) was titled ATHYR AGAIN, and the partially recarved Georgia pink marble element became the focal point in a large freestanding work with Indiana limestone, rough-sawn yellow pine, cast iron and portuguese pink marble elements. 

WHISPERS TO THE MOON is the third sculpture Don has worked on the theme of Hathor.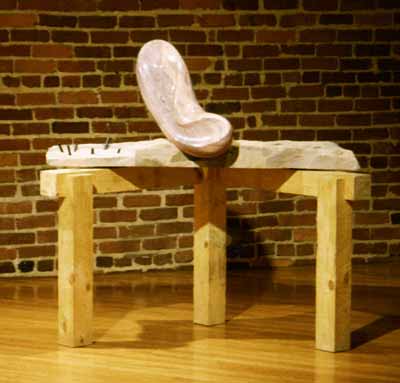 HATHOR

limestone capital

Louvre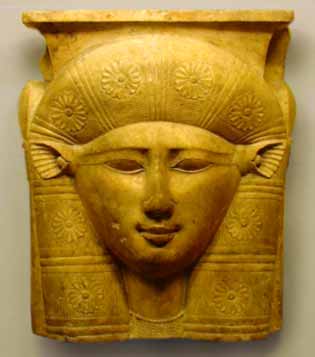 carved wood with aluminum leafing and paint

indiana limestone, paint, wax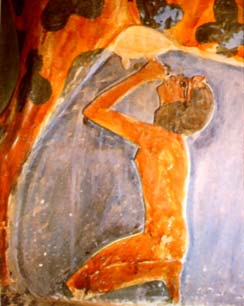 PHAROAH AMENHOTEP II SUCKLING MILK FROM HATHOR

  detail of painted sculpture,18th dynasty

  Egyptian Museum, Cairo