metaphorical presences: the royal series

The King was the earliest work in what became the royal series.

The original sculpture of the king was done without anything specific in mind other than the shape of the original block of stone - an irregularly broken piece of tennessee marble that was long and narrow.   As I worked on it, the form evolved into a collection of arching curves that soon developed into an exuberant form that seemed to be dancing for the sheer joy of life.

Once the idea of the dance took over the figure, I worked and tried to resolve the head in   different ways.  After several attempts (each of  which reduced the size of the available material), a lamination of spanish black and then another piece of tennessee marble re-extended the head portion, suggesting a crown - and at that point the work became the King.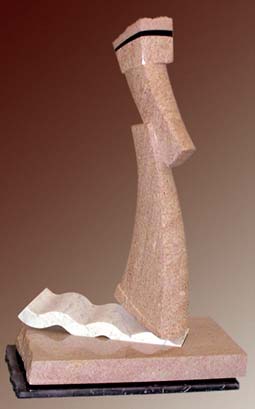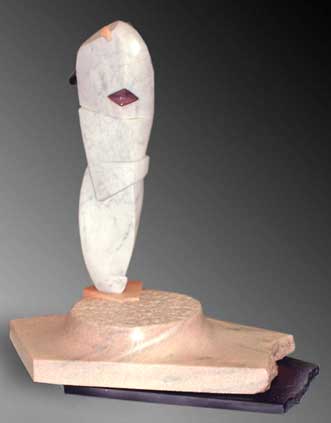 The sculpture of the Queen came about a couple of years later, when I was working a piece of white marble in Italy and I realized it was the mate the King had been lacking.  Unfortunately I came to this realization about a day before the crate had to be packed to ship my work home, so I couldn't work on her for several months.

When I was finally able to work on her in my studio, I added the colored marbles to give her the finery she deserved.

THE DANCING KING:

CUTTING THE RUG ROYAL

tennessee rose marble,

italian white marble,

spanish black marble

32" high x 20"

THE QUEEN STEPS OUT: A ROYAL WHIRL

italian white marble, belgian black marble, georgia pink

marble, french red marble, spanish black marble

26" high x 24" wide

The next sculpture in the series was the jester, he was also begun during a trip to Italy and  then finished in my studio at home several  months later.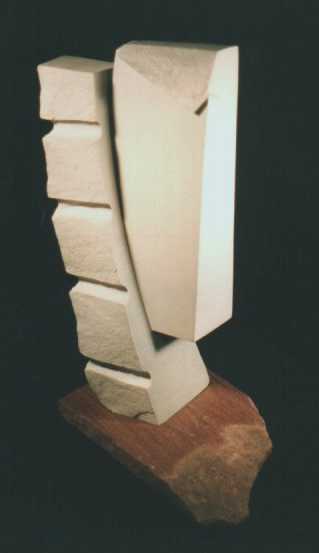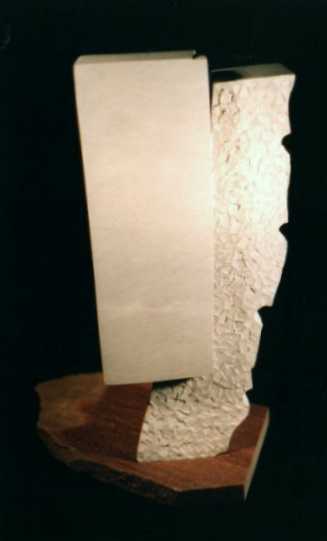 SQUARE PEG:

JESTER'S MIRROR

(two views)

italian gray marble,

tennessee brown marble

26" high x 19"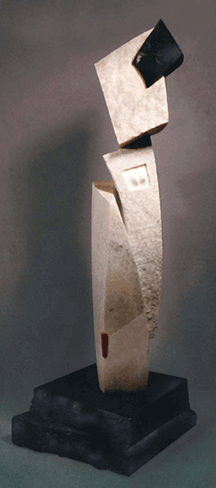 The series continued with the Princess, whose rather harsh edges were worked from a piece of georgia pink marble and belgian black marble, and inlaid with some pure white statuario and a bit of french red marble - giving her a sharp attitude.

I always thought I would have an exhibit with all the royal series together, but she is now gracing a new library building with her presence, so the rest of the characters will have to hold court without her.

PRINCESS: TOO GOOD/TOO BAD

etowah pink georgia marble,

belgian black marble,

  norwegian blue-black granite,

statuario bianco,

rosso laguna marble

32" high x 12" x 12"

sold 


Don Dougan - sculptor

                                     www.dondougan.com