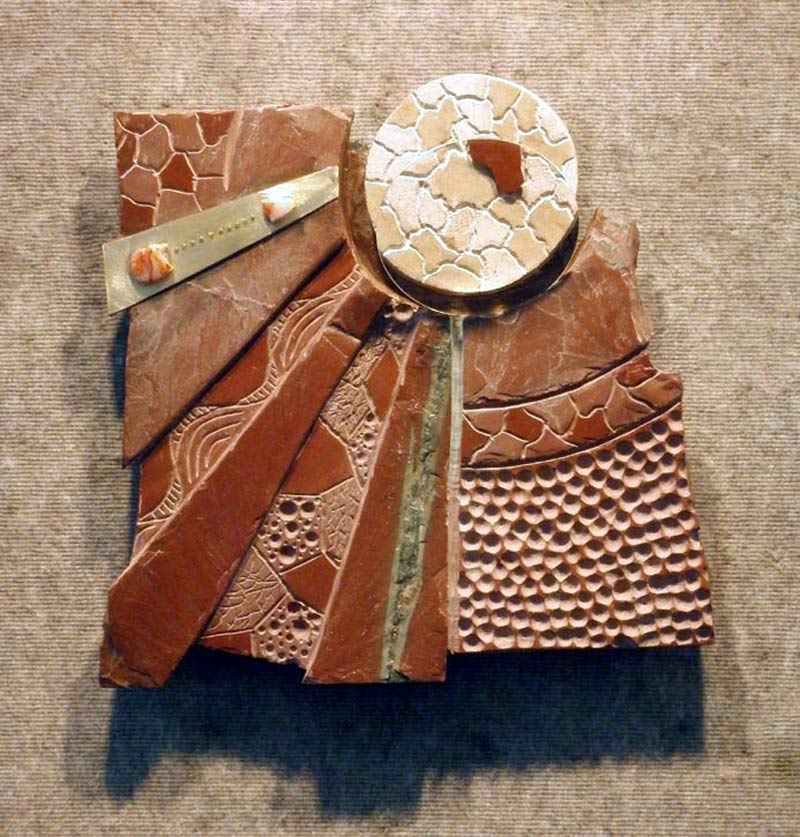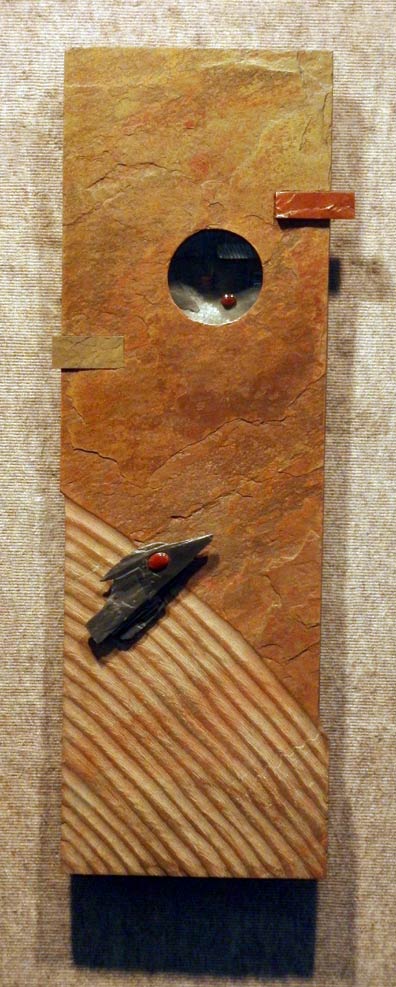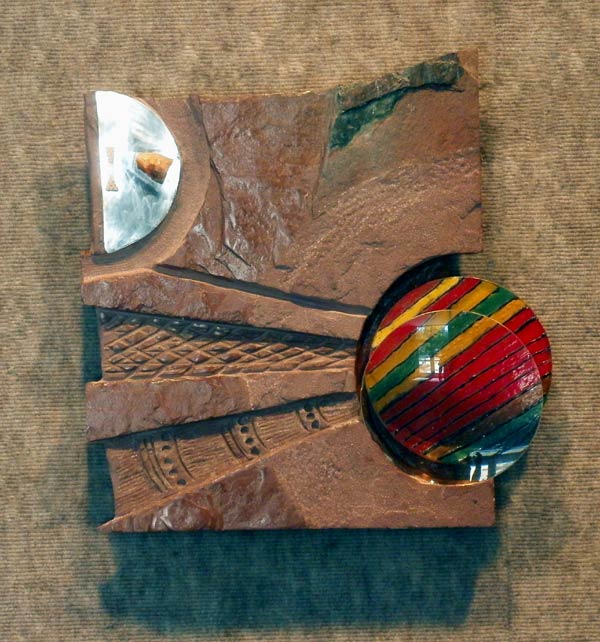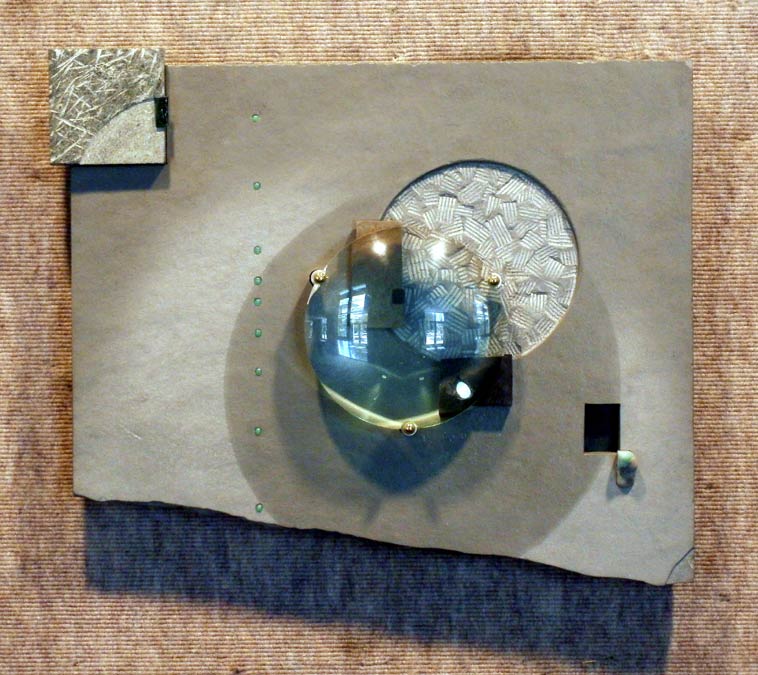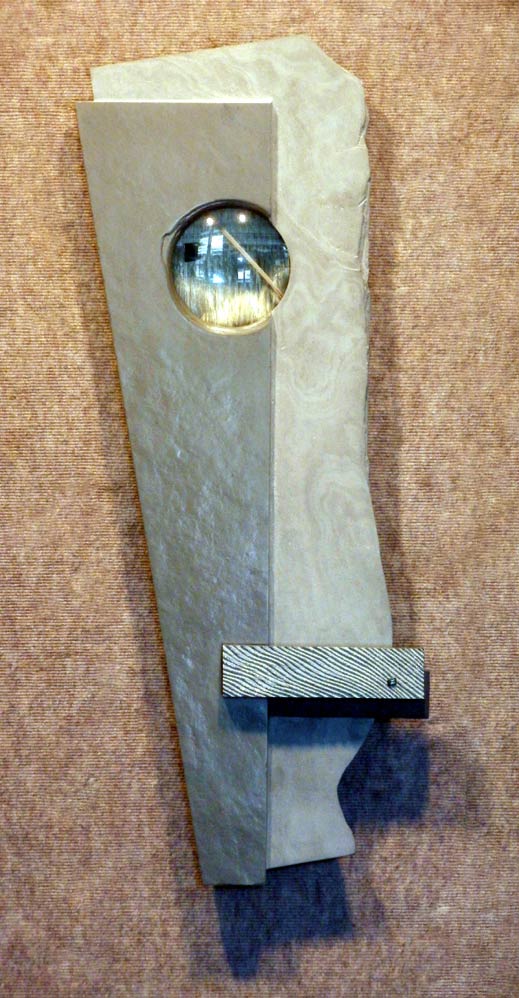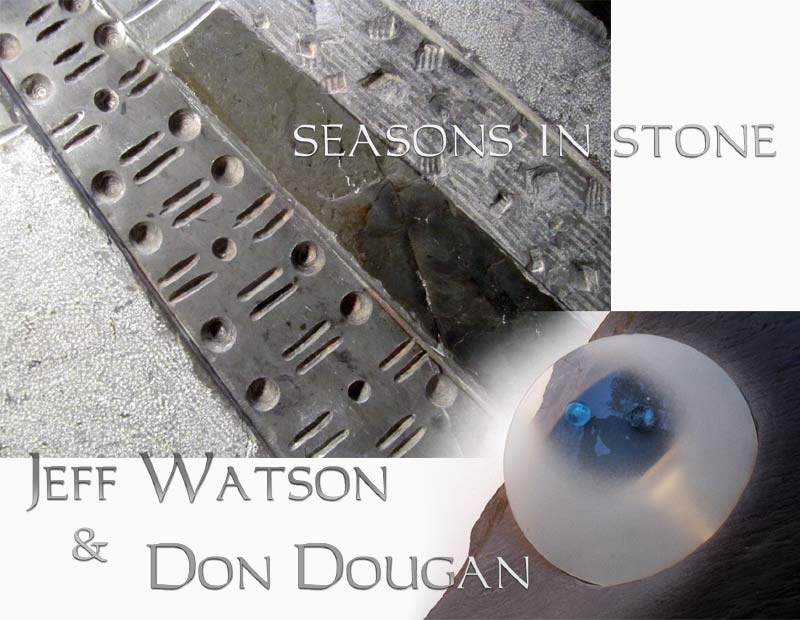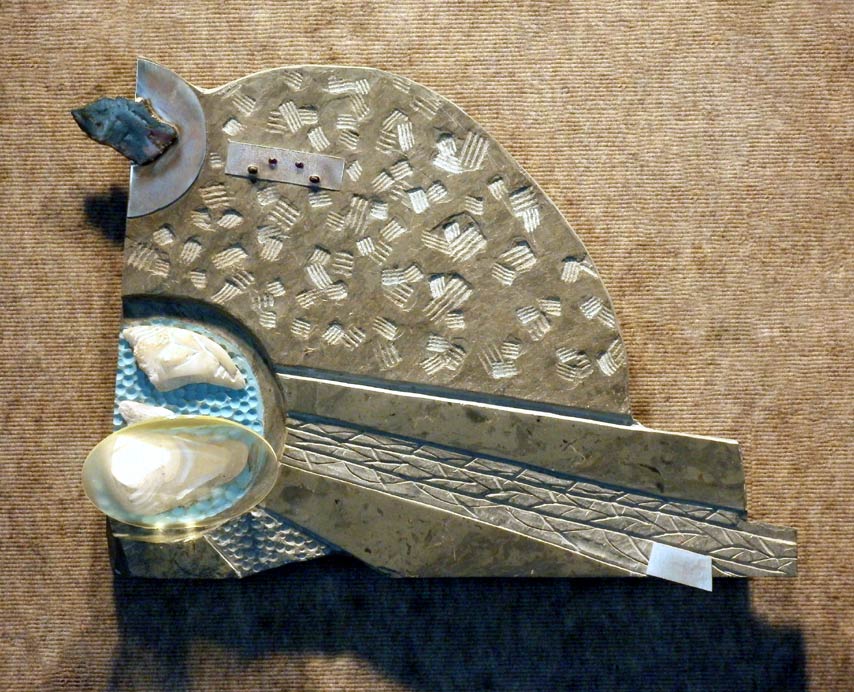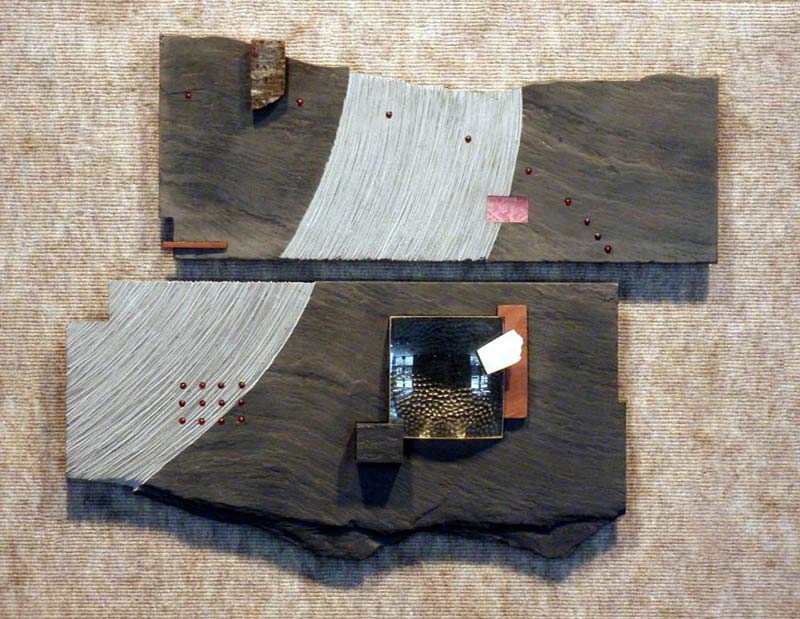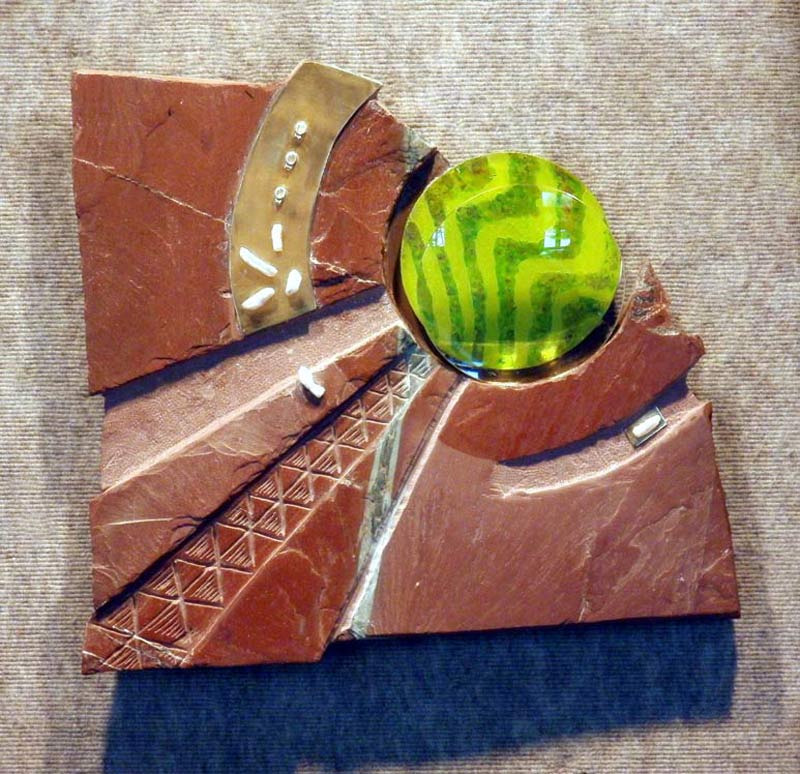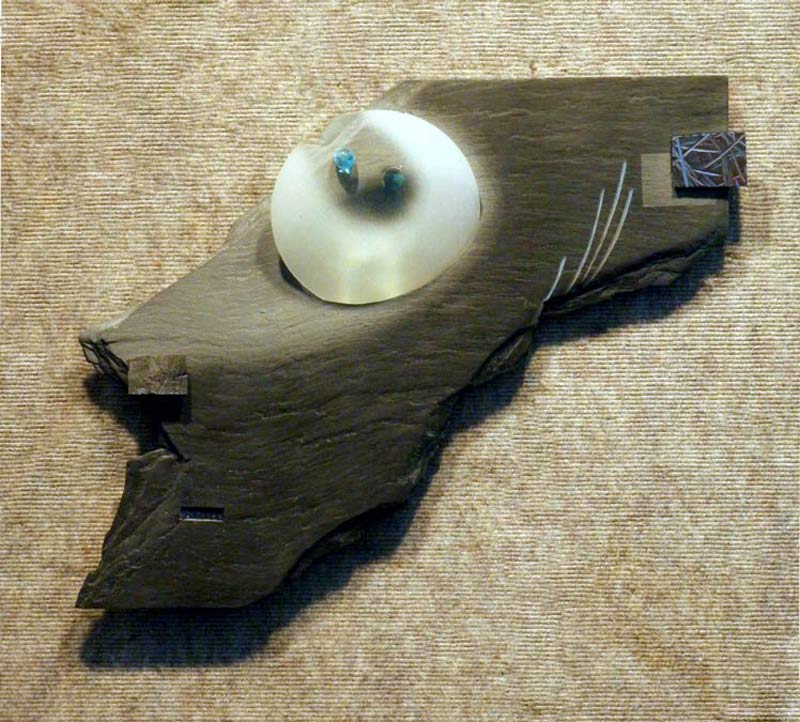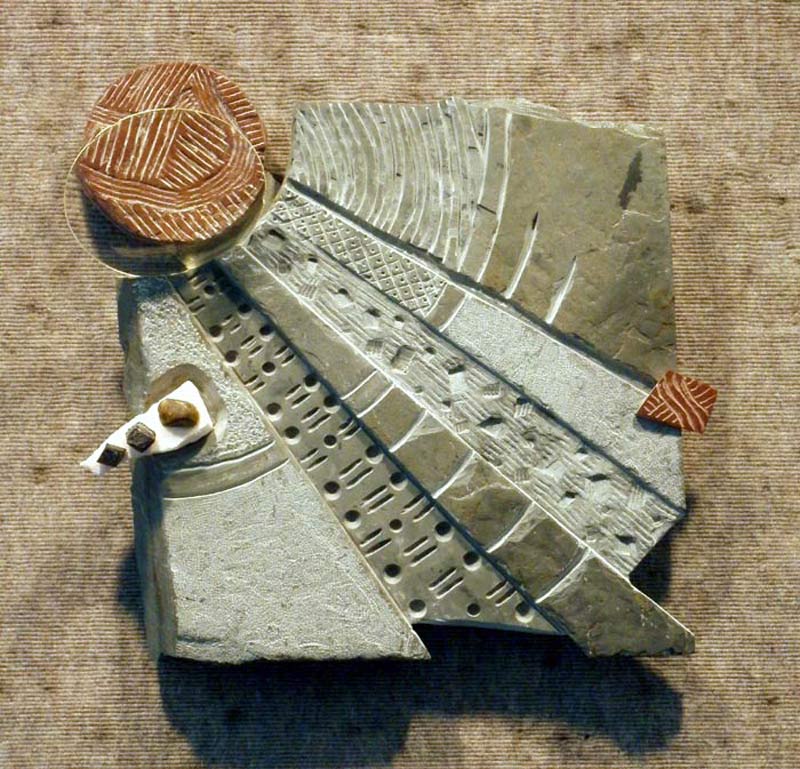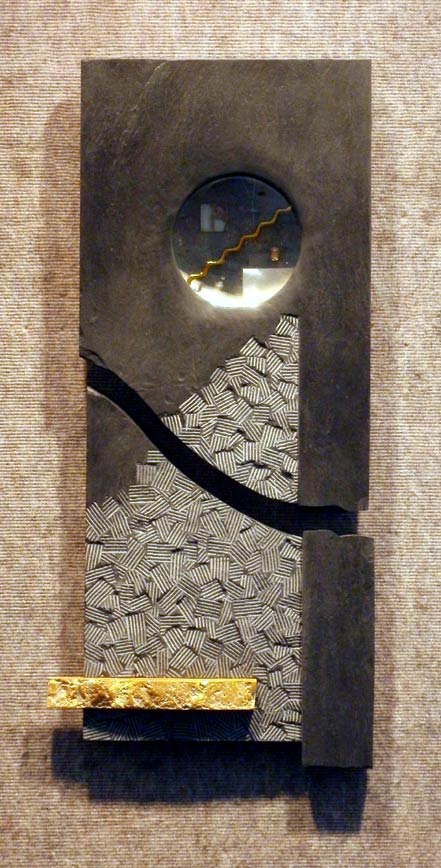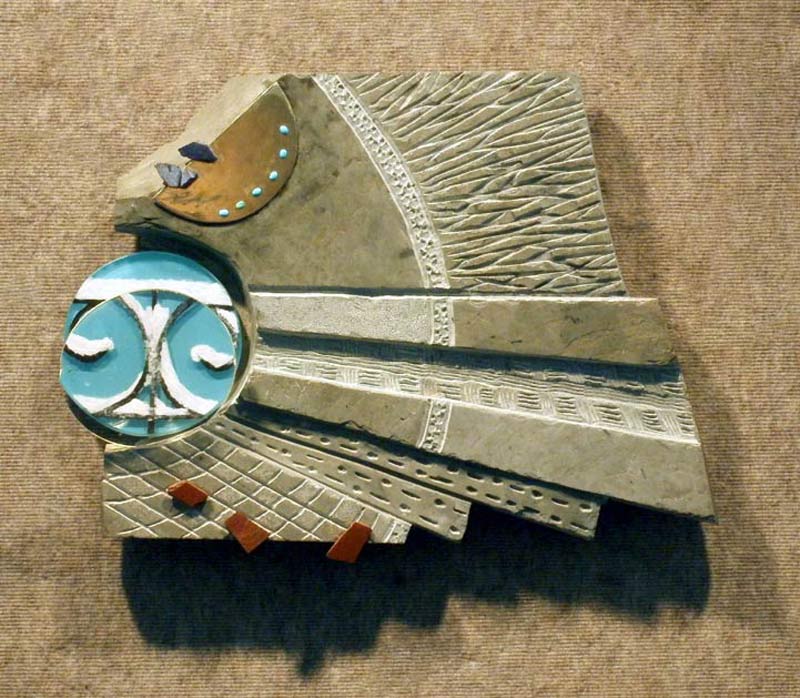 JANUARY: A CONSTANT GATE

        black and red slates, glass, Quebec garnets, rose quartz, aluminum leaf 

18½"x 22"x 2" 

FEBRUARY: AS ICEBERGS FLOAT BY

green slate, alabaster, sterling silver,

bloodstone, amethysts

21"x 16"x 2½"

MARCH: RESUMPTIONS ANNOUNCED

green slate, glass, foliated talc, jade,

bloodstone, Champlain marble, copper 

35½"x 12½"x 2½" 

APRIL: FLOWERS IN FIELD FOREVER

red slate, painted glass, sterling silver,

industrial diamonds, boulder opal

15½"x 15½"x 2"

MAY: FOR LOVE ALIGHT

green slate, glass, jade, Belgian marble, bloodstone, emerald, aquamarine,

chrysophase, aluminum, brass, illumination 

16¼"x 19¼"x 3" 

JUNE: HAYFIELDS OF KAMOURASKA

red slate, painted glass, brass moonstones, aquatic pearls

15½"x 15½"x 2"

JULY: PRIDE BEFORE FALL

red, green, and black slates, glass, carnelian 

35¼'x 13"x 2" 

AUGUST: HOT, HOT, HOT PARCHED LAKE BED

red slate, Indiana limestone, brass, peridot, sardonyx

18"x 18"x 3"

OCTOBER: WE PLOW THE FIELDS AND SCATTER...

green and red slate, pink marble, tourmalines, jasper

18½"x 18½"x 3" 

SEPTEMBER: SKIES OF BLUE (LUCIDITY)

black slate, glass, lapis lazuli, stoneware

15¼"x 19½"x 2¼"

NOVEMBER:  AFIRE FROM DREAMS

black slate, glass, Persian travertine, Italian marble, topaz

27½"x 13¾"x 3"

DECEMBER:  ENFIN, LA NEIGE ARRIVE, AT LAST THE SNOW IS HERE

slate, painted glass, brass, lapis lazuli, turquoises

22"x 17"x 3"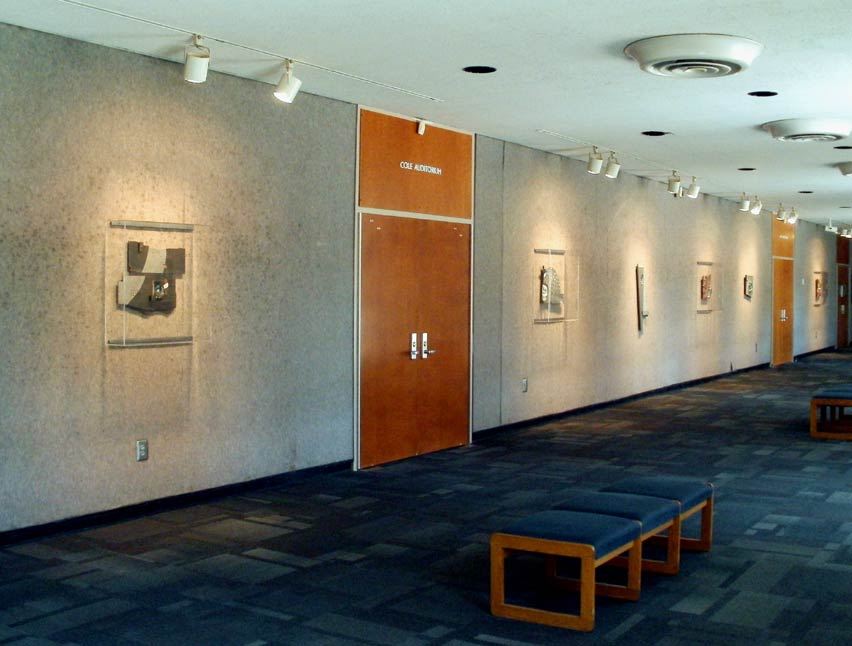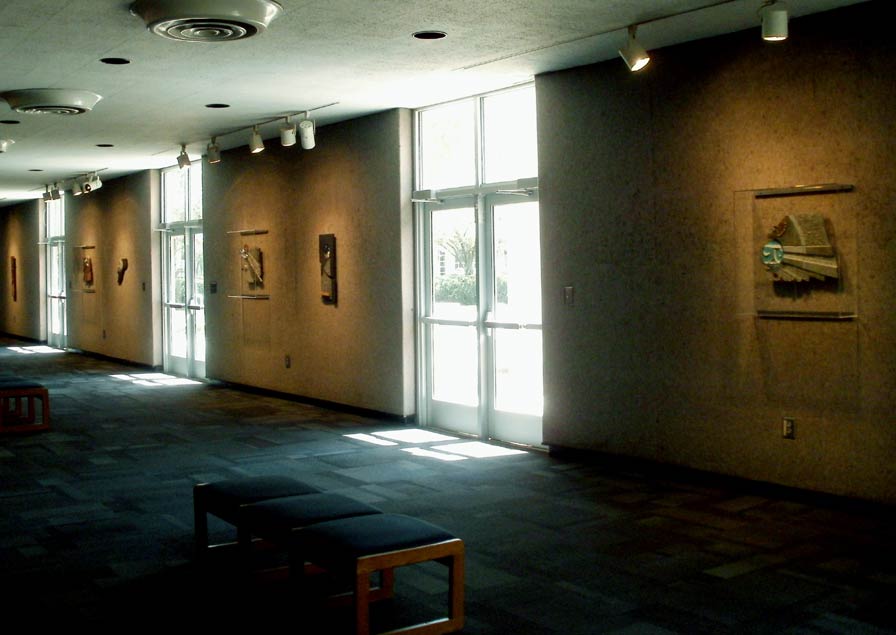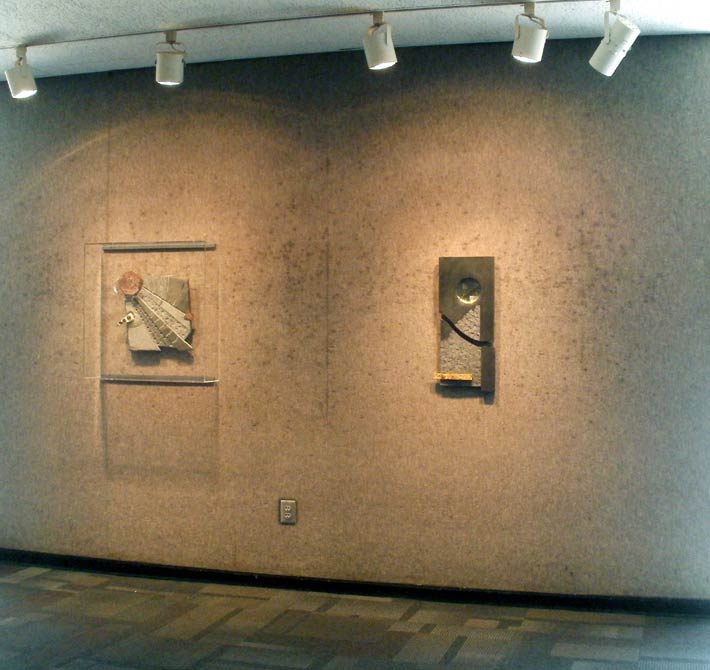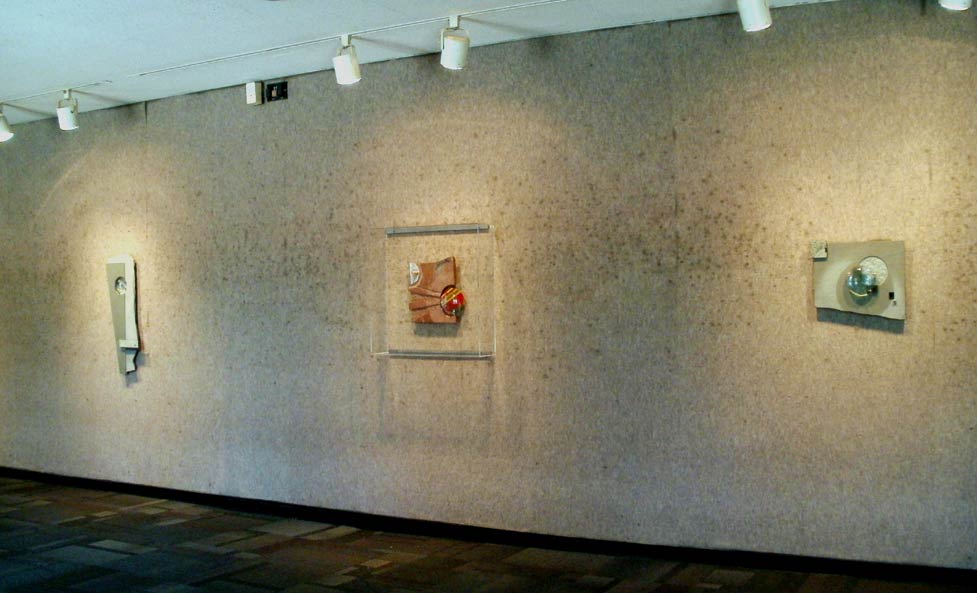 A collaborative sculpture exhibit by two stonecarvers

Jeff (Guv) Watson (living and working in Montréal, Canada)

and

Don Dougan (living and working in Atlanta, Georgia

March 26 — April 13, 2012

Reception to meet the artists:

Wednesday, March 28 6-8pm

in the

Fine Arts Gallery

of

Georgia Perimeter College

Clarkston Campus

555 N. Indian Creek Drive

Clarkston, GA 30021

Seasons in Stone –  A trans-border collaboration

This work began three years ago as an email proposal from Don to engage in a collaborative venture. The sculptors "met" through an electronic forum "Stone Conversations" and decided that they would attempt to meld their specific aesthetics with a new look at the seasons. They began by deciding that the two basic elements of their sculptures would be slate as the base stone material and glass lenses from theatre lighting. Any other elements that might be added would be mutually agreed upon.

They each worked in their respective studios on six works representing different months of the year. Because of the expense involved in cross border transportation, they intervened in each other's work using email photographic attachments and Skype video conversations only when they were ready for collaborative input. These interventions included Photoshop manipulations to illustrate the changes desired, and mailing specific elements to be included in the other's work. The result is what you see on the walls of the gallery.

Clearly, their styles are quite different even though their aesthetics are rather similar. Jeff's pieces suggest planetary movement and seasonal change through the circular forms at the extremity of each work.  Don's major intervention on Jeff's works was to change the perimeters of the slate forms and to introduce design elements that mimicked or echoed those elements in Jeff's initial version. Don's works indicate subtle changes through spatial elements, texture and color. Jeff's major intervention was to introduce birthstone elements for each work to indicate the month.

Born and educated in England, Jeff emigrated to Canada in 1966 where he pursued a career in ecological research and science publishing. He studied jewelry and sculpting in his spare time and became a full time professional stone sculptor in 2006 when he moved to Montréal. He now lives and works almost entirely in French. He has a home studio for finishing his works and shares studio space as member of a Montréal collective for the dusty work.

Don is originally from the Pacific Northwest, but he has lived and worked in the Atlanta area since 1967.  Don first began working stone in high school, when his art teacher gave him a chunk of Georgia soapstone in which to develop his skill.  Though Don subsequently attended art school, stone carving was not a part of the curriculum so his carving and stone-working techniques were autodidactic or self-taught.  After school studies were completed Don moved into a small detached studio by his home so as to keep the dust localized while he continued to study the potential in the material.  He still works in the same small studio, though he has traveled and taught stone carving and sculpture in both Italy and Finland, as well as in universities and schools around the Atlanta area. 

Don became interested in the potential advantages of collaborating as a child when playing the old Surrealist drawing game The Exquisite Corpse with his family and friends, but it wasn't until the millennium when he first began collaborating with other artists and sculptors while teaching a workshop in 2000.  In the years since he has collaborated with a number of artists, though this collaboration of the Seasons in Stone is one of the lengthiest and most complex.* 

The collaborative venture allows the artist to respond to not only the vagaries of the material (natural stone), but also to work within the often unexpected perceptions and specific actions of the other mind and hands which are working the material.  For two artists or sculptors who both approach their work intuitively the collaboration can be both a challenging and invigorating experience.

Jeff Watson & Don Dougan

March, 2012



*One of the other collaborative ventures Don is been part-of is the Imagillaboration project involving over a hundred sculptors located across twenty-six states in the US. Don was one of the members of Group Seven. 
Imagillaboration.org

54MB PDF file with high-res versions of photos above